On Saturday the 6th of July 2013, a volunteer group of 975 singers from various established choirs around the South West of England, assembled and sang together for the biennial Sing For Water West event in support of the WaterAid charity.

I had the privilege of being a 'volunteer photographer' at the 2013

Sing for Water West

performance and the 2009

Sing Your Socks Off

event, and along with the few dozen conventional photos that I donated to the organisers on each occasion, I also tried to capture the merry atmosphere in these large panoramic images.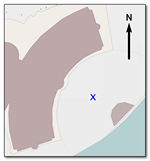 In this picture, the 'arc' of the building behind these singers is in fact concave although it appears to be convex! The reason is that, due to the limited space available in the amphitheatre at this point, I was positioned closer to the middle of the arc than I was to its outer edges (see the little blue 'x' in the amphitheatre map opposite), and hence the singers at the outer limbs of the arc appear (obviously!) smaller

.

To get some stability for the multiple shots for this panorama, I borrowed a stool from one of the drummers in the small, supporting percussion group who were positioned near the 'x' on the map. I used the stool to support my elbows as I swung the camera progressively from left to right across the arc of the singers (who were in full song at the time). The conductors of the choir were standing on their raised conductors' podium some distance behind me, and the early-arrival spectators were also seated and standing behind me, so I had an uninterrupted line of sight towards the choir.



The 2013 Sing For Water West event raised over £51,500 for WaterAid!

The event organisers for Sing For Water West 2013 were Ali Orbaum, Pip Morgan and Chris Samuel.
The Choir Masters were Ali Orbaum, Chris Samuel and Wendy Sergeant.

---
Technical Notes:

This blend of 18 images resulted in a panorama 35,300 pixels wide by 2,280 pixels high, spanning a horizontal field of view of about 200°
Panorama Projection: Cylindrical
Camera: Nikon D700, hand-held while seated. Lens: 70-200mm f2.8G Zoom-Nikkor at 87mm
Each frame - 1/1000th sec @ F/10, ISO 400. Elapsed time between first frame and last frame: 90s.
I used three image processing programs to produce this panorama:

Before using PanoramaStudio to assemble the panorama, I used DxO Optics Pro Elite to convert the RAW/.NEF camera files into .TIF format images, and also to adjust verticals and to make contrast adjustments on each of the component images.
PanoramaStudio then merged the 18 images into this huge panorama, and exported it as a huge, full-quality JPEG image.
Finally I used Nikon Capture Nx2 (sadly discontinued) to "polish" the merged panorama, to tune the colours slightly and to edit-away some minor clutter from the final image.